FEAST OF BLACK FRIDAY
AS everyone knows, Black Friday is a popular day, which is considered to the beginning of the Christmas shopping season. Almost all the markets and stores will cut prices in order to make more sales. Of course, we also plan to run some special offers during this season.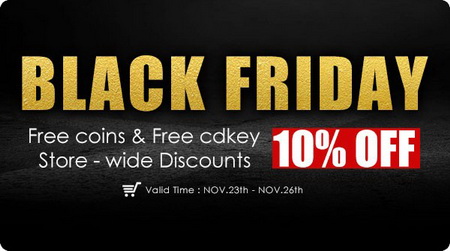 Time: NOV.24th-NOV.26th
10% discounts on all orders.
A prize draw opportunity for orders above €30, if order exceeds €60 , you will get two chances. The more you buy, the more chances you will get.
One luck customer will be randomly selected to enjoy the VIP privilege of 5% OFF (in one year).
Special in-game items will be given to 3 randomly-selected WoW customers as gifts every day.
Limited number of discount coupons(€2,€5,€10) ,which are suitable for all items at our store,will be sent out on Facebook, Twitter every day.


Sufficient stock and 24 hours online service bring you a good shopping experience.