New Year Special Promotion
2017 X-mas has just ended . If you're not satisfied, don't worry, the 2018 New Year Sales is just around the corner.
Time: Jan 1, 2018–Jan 7, 2018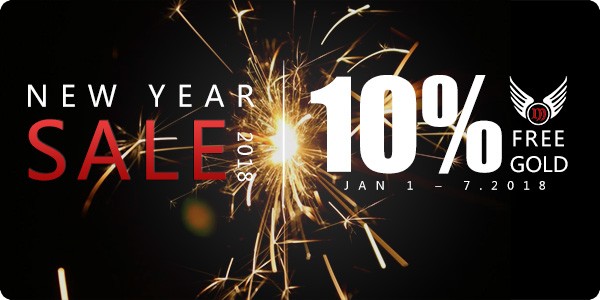 Extra 10% gold
-Extra 10% gold for
The Elder Scrolls Online
,
Star Wars The Old Republic
,
FFXIV
,
DOFUS
,
Tera
,
WoW
.
7% discount
-7% discount on
FIFA 18
,
GW2
,
Neverwinter Astral Diamond
,
Blade & Soul
and so on.
5% OFF
-Besides 5% off on order of CD key or PowerLeveling services, you can get a gold coupon which is worth 5% of your order amount (only valid during this sales).
€5 code
-Limited number of coupon codes (€2,€3, €5) will be sent out via our Facebook and Twitter everyday for free. These codes can be used to buy anything at our online store.
Wish you health and success in the New Year!