One last chance to get our special anniversary offers – limited time!
You missed the opportunity to enjoy our 12th anniversary sales? Don't be disappointed! Look here - one last chance appears.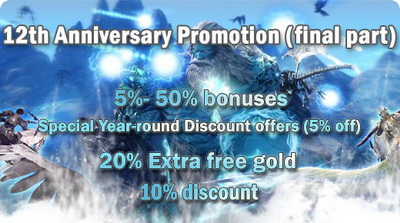 Time: 8/11 – 8/17
5 % bonus for all the orders
3 lucky customers will get 5% discount for all the orders in the following 12 months
Each day a lucky customer who bought CD Key will receive 50% bonus of his order amount
Each day 3 games will have a special offer
-One game has 10% discount for all the orders and each day 2 lucky customers will get 20% free golds
-The details of our special offers will be posted and updated daily in our Facebook and Twitter. Free gold will be added to the accounts of randomly-selected customers by our system .